On tribal segregation and liberal hypocrisy
Amongst those interested in the South Sudan turmoil, this picture of upfront tribal segregation in a UN refugee camp has caused some debate: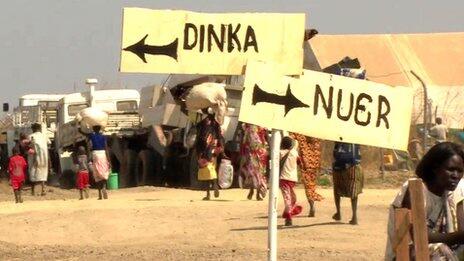 My first reaction was one of concern, similar to that of  Sudan/South Sudan-focused journalist Bec Hamilton (@bechamilton) who tweeted:
Ethnicity is used readily enough by unscrupulous #SouthSudan elites right now. No need for the UN to add to it……..The UN has a choice. A choice not to reinforce harmful &, more to the point, inaccurate divisions.
But perhaps it's not that simple, I thought then, and emailed the photo to my wife – who has worked in (pre-independence) South Sudan* and also managed a large refugee camp operation during and after the Rwanda genocide of 1995.
Her response when she got home was salutary, and went something along the lines of:
Yes, I can understand exactly why they've done that, and while I don't know the details, I may well have done exactly the same.  You have to understand, you liberal, wishy-washy buffoon, that this place is catering, at short notice and on a make-it-up-as-you-go-along basis, for women and children who are traumatized by the recent carnage and may have walked for several days to find this makeshift security and shelter.  What they want and need is immediate shelter, water and food, free from fear of violence, and if the best way to do that is via temporary segregation, so be it. And here are you worrying about whether the UN is reinforcing tribal division stereotypes, you total numptie.  Have you never bleeding read Maslowe's hierarchy?

That's not to say that there shouldn't be efforts at inter-tribal communication and as needs be reconciliation, via a safe central area, given that until a month ago the Dinka and Nuer lived quite happily alongside each other**, and to this extent Bec Hamilton is probably right to point out that the current ethnic violence has been stirred up by self-interested elites within and around the new government structures, but the immediate priorities of shelter and security clearly come first.  I mean, are you on fuckin' acid, or what, you bleedin' hippie?
Well, I paraphrase somewhat, but that was the general gist.
Somewhat chastened, I reflected on how, in very different circumstances, the debate about immigration is going in the UK, and about my take on it.  My take on it goes roughly along the lines of: economically and philosophically, free movement of people is clearly a good thing, but we do have to take on board the fact that the British working class has for a long time now been subject to a virulent anti-immigrant EU discourse, and it is therefore entirely appropriate – in order not to come over counter-productively as an elite 'expert' to find a route through which takes expressions feelings of insecurity as legitimate, and to seek to negotiate a new settlement for the long term.  Here's one I made earlier.
Yet, on the other hand, I find myself unprepared – at least as a first instinct – to take on board the need for immediate security of South Sudanese women and children because. if I do so, they might fall into some long-term error of tribal distrust.
Really, I'm surprised at myself.
* Strangely, it's not out of the question she may find herself back in South Sudan soon, as with he kids big enough to look after me now, she's going on the International Emergency and Trauma Register, ready to fly off a a day's notice to the next trouble spot, and given her experience in South Sudan, I guess she might get the call, in which case expect more blogging on this subject.
** Depressingly, the comments under the line of the New York Times article I link to above focus on the fact that the Dinka and Nuer have 'traditionally' had a war-based relationship, reflective of a pre-market pastoral society in which cattle-raiding is a key economic activity.  EE Evans-Pritchard 1940's seminal study The Nuer even gets a mention.  It seems to me that arguing that tribal segregration is justified on the basis of a study of society three generations ago is a bit like arguing that we should restrict EU-migration because, you know, the second world war.